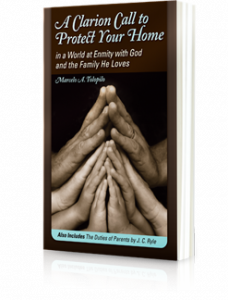 A Clarion Call to Protect Your Home
From the pen of the author~
Christian parents have the great call and privilege to protect their homes, and in that environment lead their children to the Savior and disciple them for godly living. Truly, the magnificent venture of the Great Commission (evangelism and discipleship, Matthew 28:18-20) begins at home. People need to see that Jesus Christ changes lives. For many, the primary evidence of Christ's transforming message is the metamorphosis He brings to our families.
Yet, the frequent frenzy of life, the fallen world in which we live, and our unredeemed flesh conspire to draw us away from this great parental purpose. It is my sincere hope and earnest prayer that this humble volume will remind us of, and draw us back to this supreme objective of Christian parenting.
Three important areas addressed in this volume are:
The marriage union
The parent/child relationship
The innocence of children
Two extended application sections are designed to strengthen the marriage relationship and the parenting endeavor.
Also included is The Duties of Parents
Originally written in 1888, the 17 parenting principles outlined in this simple work speak just as powerfully today as when they were first penned 120 years ago. In his typical pastoral fashion, J. C. Ryle delivers timeless, sage, biblical advice for moms and dads in all eras. This is a "must read" for all Christian parents!